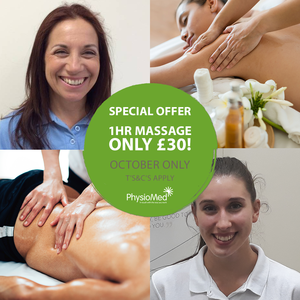 Ease back into the 'New Normal' with a relaxing massage or if you're rearing to go, a sports massage for only £30.
For October only, we are offering all NEW patients (at both our Leeds and Guiseley clinics) a 1 hour full body massage or a 1 hour sports massage for ONLY £30!


Benefits of massage and sports massage
A sports massage isn't just for those who play/practice sports that are injured, it can also offer many benefits to uninjured people who are aiming to improve their overall sport performances. A sports massage can also benefit people that have physically demanding jobs and people suffering from an old injury. Even people that have sedentary desk jobs can even benefit from a sports massage.
An all over body massage is very gentle and relaxing so is a good option for people with, pain issues or in need of a pamper. Some of the main health benefits of an all over body massage include:
Reduce anxiety
Boost energy levels
Induce sleep
Strengthen the immune system
Increase circulation
TO BOOK CALL
0113 229 1300
Terms and conditions
This offer available to NEW patients only.
Available at our Leeds and Guiseley clinics with our Massage Therapists Vikki Adams (Leeds) and Emma Wood (Guisley).
Offer ends 31st October 2020.