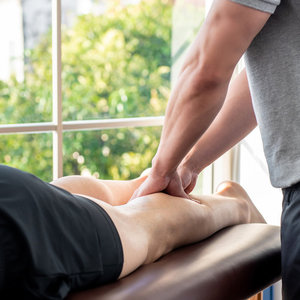 Why wait weeks for an assessment with an NHS Physiotherapist, when you can have a FREE initial assessment within days?
What is it?
For a limited time, we are providing free initial assessment sessions for non-existing customers. Your session will be with Christian at our Leeds clinic, who will take a look at your injury, discuss any issues you're having and decide the best course of action, whether it's physiotherapy or otherwise.
Many physiotherapists will charge for an initial consultation, even when treatment isn't carried out. This is an excellent opportunity to get checked out for free!


When is it?
Christian will be offering free initial consultations every week day until the 31st December 2019 to new patients using the Leeds clinic.


Who can benefit from a free initial assessment?
Free initial consultations are for anyone who hasn't previously had a session or consultation with Physio Med. It doesn't matter how old you are, or whether you're a professional athlete or not, we are happy to see you and provide advice if you've got an injury or a problem that's causing you pain.


Where is it?
We're currently holding these sessions at our Leeds clinic only. The Leeds clinic address is: Chartered House, Gelderd Road, Wortley, Leeds, LS12 6DT.


How much will it cost?
Your free initial consultation is completely free. There are no hidden costs, and there will be no obligation for you to book any paid-for sessions afterwards (though you are completely welcome to do that!).


How can I book?
You can book a session easily by phone on: 0113 853 6667, Monday to Friday between 8am to 8pm, and we'll find you the next available appointment. Please quote "FREEIA" when you call or add it in the message box if booking online.


Terms and Conditions
Offer available to new patients only.
Offer available for physiotherapy assessments only.
You MUST quote "FREEIA" to claim the offer either over the phone or in the message box if booking online.
This offer is subject to availability and will be on a first come, first served basis only.
The Free Initial Assessment cannot be used with any other offer and is only available to self-paying patients.
Offer ends December 31st 2019.
To qualify for a free initial assessment, you must be treated by Christian only.
Physio Med reserves the right to remove this offer at any time.