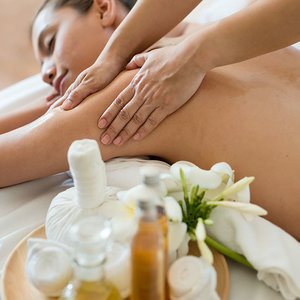 Melt the tension away this Valentines by treating a loved one (or yourself!) with a 60 minute deep tissue/sports massage treatment for only £23! (normally £38.00)
Who would benefit from a deep tissue/sports massage?
Anyone!
Whether you're a runner, rugby player, football player, swimmer, triathlon runner, cyclist or a martial artist you would benefit from a deep tissue/sports massage.
If you have a very physical job that involves heavy lifting, you would certainly benefit from a deep tissue/sports massage.
What is a deep tissue massage?
This type of massage therapy addresses the deeper muscles within the body. At the beginning of a deep tissue massage, lighter massage techniques are applied, this helps to stimulate and warm up the muscles. After that, more strategic massage techniques are used to reach and target the deeper tissues.
The Deep Tissue Massage treatment is also used to break down any muscle "knots" that can lead to the disruption of circulation. For more information, please call our friendly team of Massage Therapists on 0113 853 1269.
What is a sports massage?
This type of massage treatment helps to improve physical performance and mobility by manipulating soft muscle tissue. As a result, a sports massage helps to reduce the build up of lactic acid in the body that helps to prevent muscle soreness.
Most people think that you need to get a Sports Massage when you're injured. However, this isn't the case. Athletes and sporting professionals choose a sports massage to help reduce tension and stresses that accumulate within the body's soft tissues during regular training.
Terms and conditions
This offer is only available to new patients at our Leeds clinic with our Sports Massage Therapist Paul Kernick.