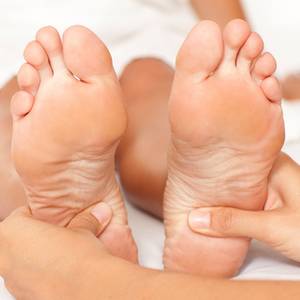 We offer reflexology treatment at our clinic in Wortley, Leeds.
The principle of reflexology consists of applying pressure to the feet, as there are particular areas which can impact on other parts of the body.
This ancient treatment is a valuable tool in assessing the patient's physical states, as crystals build up underneath the skin and indicate where an ailment (minor issue) is present in the body.
Through Reflexology treatment ailments can be treated and relieved. The process of reflexology is deeply relaxing, excellent for detoxification, emotional release and overall health.
It can be used once as a relaxation and general health tool or in a course to treat an ailment or achieve a specific goal.
Reflexology is also non invasive and perfect for people who are less comfortable with body massage.
Appointments can be 30 or 60 minutes
Please note that the Therapist will need some time on the initial appointment to assess your condition before starting the treatment
Appointments
£23 for 30 mins
£38 for 60 mins
For information call 0113 853 5130 for details. We're open Monday to Friday 8am to 8pm. In some cases, you can get treated the same day.