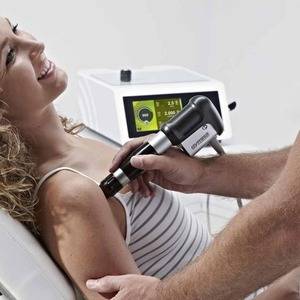 'Shockwave therapy' has been administered for over 20 years for the treatment of kidney stones. Recently, however, it's been shown that shockwave therapy can also be highly effective in the treatment of various musculoskeletal injuries and disorders.
Physio Med have recently acquired a radial shockwave machine that will be used in the treatment of chronic injuries where other treatments have proven to be unsuccessful.
The shockwave machine is non-invasive and works by creating and focusing high energy sound waves (like ones which occur in the atmosphere after an explosive event such as a lightning strike or sonic boom) onto the injury and affected area.
It treats injuries by first breaking down scar tissue that has built up over the course of time where the body has been unable to repair itself. It then promotes healing by stimulating the repair of tissue, which in turn reduces the pain of the injury.
Shockwave therapy has been shown to be effective in the treatment of localised musculoskeletal pathologies such as epicondylitis (tennis elbow), plantar fasciitis (and heel spurs), rotator cuff disorders, trigger points and a variety of chronic tendinopathies.
If you suffer from any of these injuries and have found previous physiotherapy treatment to be ineffective, why not book an appointment with us and see if you could benefit from shockwave therapy today?
A shockwave therapy machine