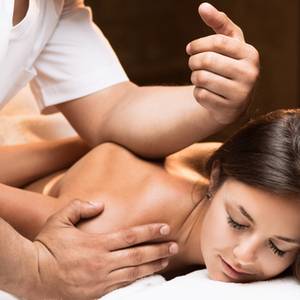 At Physio Med, we offer deep tissue massage treatment Monday to Friday, 8am to 8pm.
Deep Tissue Massage Treatment in Leeds & Guiseley
If you're suffering from a particular problem, such as chronic muscle pain, we recommend contacting our team of Chartered Physiotherapists to see whether Deep Tissue Massage Treatment could be right for you.


What is a Deep a Tissue Massage?
This type of massage therapy addresses the deeper muscles within the body. At the beginning of a deep tissue massage, lighter massage techniques are applied, this helps to stimulate and warm up the muscles. After that, more strategic massage techniques are used to reach and target the deeper tissues.
The Deep Tissue Massage treatment is also used to break down any muscle "knots" that can lead to the disruption of circulation. For more information, please call our friendly team of Massage Therapists on 0113 853 1269.


Why Physio Med for Deep Tissue Massage?
We've been helping people for over 25 years
We've helped athletes, runners and people from all walks of life with their aches and pains.
There's no need to wait for a GP referral
So why be in pain longer than you need to be?
Same Day Treatment Monday to Friday 8am to 8pm
If you're suffering from aches and pains, we can get you in quickly. Call us now on 0113 853 1269 to see our availability.


Pricing for treatment
£23 for 30 Mins
£38 for 60 Mins