Mark Fletcher, Senior Chartered Physiotherapist
MCSP HCPC(PT) ACPOHE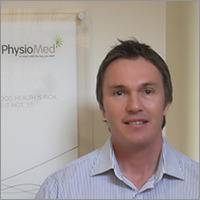 Clinical Director & Clinical Governance Director

Mark trained and qualified as a Chartered Physiotherapist at the Newcastle School of Physiotherapy from 1985 - 1988. He then worked in the NHS from 1988 - 1999 gathering a broad base experience in the field of musculoskeletal medicine, leaving the NHS in 1999 as a Senior 1 Physiotherapist. From 1999-2003, he then took the position of lead Physiotherapist to the Bradford Bulls Super League club, orchestrating the whole rehabilitation service at high end sport. Currently as Clinical Director of Physio Med he has, along with the rest of his team, developed, trialled and implemented a range of effective and audited musculoskeletal rehabilitation models. These include our telephone triage, Physiotherapy Advice Line (PAL) and face to face physiotherapy service. He continuingly endeavours to scrutinise, govern and develop all services, to provide the best and most cost effective physiotherapy rehabilitation solution.
---
Paul Wimpenny, Senior Chartered Physiotherapist
MSc BHSc MCSP HCPC(PT)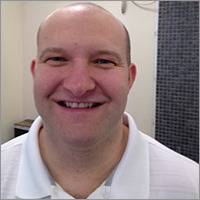 Clinical Governance Officer
Qualifying in 1995 from Pinderfields School of Physiotherapy Paul initially worked in the NHS across Leeds, London and Scunthorpe. Having decided to specialise in sports injuries Paul completed his MSc in Sports Medicine at Leeds Carnegie University graduating in 2002. Following a role at a private sports injuries clinic Paul became a practising lecturer at Leeds University where he completed several pieces of research specialising in bio-mechanics and isokinetics. Paul has continued to lecture, although only at post graduate level now, worldwide. He has lectured at notable educational establishments including Kings College, Cambridge, Harvard, Lomonosov and Todai amongst others. In recent years Paul has worked with many large worldwide employers including Toyota, Nissan and Nike specialising in human performance, injury prevention, pre-employment assessment and return to work/job reallocation. He is renowned as a worldwide authority on isokinetic functional capacity assessment and is a published author.
Paul currently still carries a clinical work load whilst acting as clinical governance officer for Physio Med. He offers guidance on protocols, efficacy, and effectiveness whilst ensuring the highest clinical standards are maintained across the Physio Med network. He continues to lecture worldwide.
---

Karen Black, Senior Chartered Physiotherapist
BSc Hons MCSP HCPC(PT)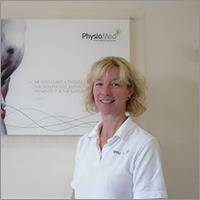 Qualifying in 1989 from Manchester Royal Infirmary School of Physiotherapy, Karen has been a Senior member of the Physio Med clinical team for 10 years, specialising in musculoskeletal conditions. As well as treating patients in the clinic, Karen currently spend at least 2 mornings a week consulting on the Physiotherapy Advice Line, which she has been involved in since its initial inception in 2008.
As a locum Physiotherapist for Reed Health Professionals for a number of years, Karen worked in the North West and North East in many NHS and private hospitals, GP clinics and medical centres and for the M.O.D. She was involved in working on orthopaedic units and mostly in out-patients and GP clinics. Karen spent a few months at Catterick Army Barracks involved in the rehabilitation of Armed Forces Personnel.
Karen also spent a year working in an acute hospital in Maine, USA, mostly in the out-patient department with some in-patient orthopaedics.
Prior to this she spent a number of years working in out-patient departments, GP clinics and in-patient rheumatology and orthopaedic units as a Senior II Physiotherapist.
In addition to this Karen also specialises in acupuncture, which if required can be an excellent tool for treating pain.
---

John Donohoe, Senior Chartered Physiotherapist
BSc Hons MCSP HCPC
Qualifying in 2008 from Huddersfield University School of Physiotherapy, John has been a Senior member of the Physio Med clinical team for 2 years, specialising in musculoskeletal conditions.
Working initially at the Yorkshire Clinic he gained an extensive experience in dealing with NHS patients and differing NHS trusts as well as negotiated GP contracts.
John has setup and run class based programs for NHS patients such as total knee replacement, back pain and shoulder rehabilitation.
John also specialises in Pilates and this forms a key part of his home treatment programmes.
As an inpatient orthopaedic / surgical physiotherapist and private practitioner he has encountered many patients with underlying respiratory, neurological and mental health / learning disabilities which he has had to consider in his treatment plans. He also has experience of treating paediatric patients. This has given John a solid foundation for the treatment of all musculo skeletal disorders.
---

Tom Marshall, Senior Chartered Physiotherapist
BSc Hons MCSP HCPC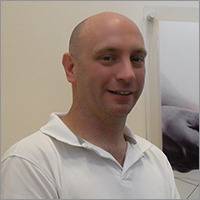 Qualifying in 2007 from University of Teesside School of Physiotherapy, Tom has been a Senior member of the Physio Med clinical team for 1 year, specialising in musculoskeletal conditions.
Previously working at the Park Hill Hospital in Doncaster, he was responsible for all Musculoskeletal (outpatient) Physiotherapy and also had an inpatient caseload. His outpatient caseload included self-referral, GP referral and consultant referral and Post-op rehab. His inpatient caseload comprised of elective orthopaedic surgery as well as some general surgery mobility assessment and post-op advice.
The post gave him the opportunity to undertake supervision and in-service training of Band 5 and other Band 6 Physiotherapists and also assistants, developing his teaching and communication skills.
In addition, since March 2011 Tom has been the Dewsbury Rams 1st Team Assistant Physiotherapist.
Working alongside the Head Physiotherapist he is responsible for on field medical management as well as player screening, injury assessment, treatment and rehab as well as return to play assessment.
---
Dale Halford, Consultant Podiatric Surgeon
FCPodS DPodM MChS HCPC Registered
Dale qualified from Durham School of Podiatry in 1986 and after 2 years working in the NHS he established successful private practices in Halifax and Ilkley. After deciding to specialise in Podiatric surgery, he started his surgical training in 2000 at University Hospital Lewisham and was awarded his Fellowship in Podiatric Surgery in 2004. He completed his surgical training as a podiatric surgical registrar in Doncaster and was awarded his Certificate of Completion of Podiatric Surgical Training in 2007. Dale was them appointed to his first Consultants post in Durham before transferring to Hartlepool in 2008. Dale currently divides his time between Suffolk, where he was appointed in 2010 and where he is clinical lead for the Suffolk Foot and Ankle Surgery Service and his home in Bingley, which allows him to consult from the Physio Med offices in Leeds.
Dale has lectured at regional and national conferences and was a contributor to the British Association of Day Surgery booklet on surgery under local anaesthesia. He is also a registered tutor for the College of Podiatrists, and currently has a registrar and pre surgical trainee under his tutorship.
Dale has a special interest in hallux valgus surgery and forefoot reconstruction, performed under regional anaesthesia and correction of digital deformity. He is also using cartilage resurfacing implants for big toe joint pain.
His expertise in high volume intra articular injections of the foot and biomechanics assessment complements the work of the Physiotherapy team of Physio Med.
Please look to the pricing section for the costing of this service or contact Physio Med for further information.
---
Emma Wood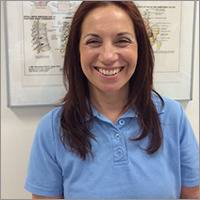 Emma qualified as a sports massage therapist with Active Foundation in 2002. After gaining key experience in a highly professional and demanding sports environment at Castleford Tigers Rugby League Club, she joined the Physio Med team as an experienced massage therapist.
Since working with Physio Med, Emma has utilised her specialist deep tissue massage skills, DTM to improve a wide range of soft tissue injuries enabling her to assist athletes of all abilities and disciplines. These include professional power lifters, runners, swimmers, cyclists and endurance triathletes. Whether professional or recreational, the benefits of DTM for injury treatment and equally importantly injury prevention, are applicable to all levels of athletes.
Emma's skills can also be effective in the treatment of work related pain e.g. R.S.I as well as older or more persistent injuries.
Additional benefits of DTM include increased flexibility, muscle endurance for everyday activity as well as an aid to improving mobility and general well-being.
Whatever the level of treatment, Emma's 'hand on' approach and depth of experience make her an invaluable member of the Physio Med Team.