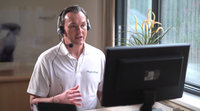 The COVID-19 outbreak is impacting all our lives.
The welfare of our staff is obviously of the utmost importance and we want to reassure you that we are doing everything we can to look after our people while maintaining services to you, our patients.
In line with Government guidelines both our Guiseley and Leeds clinics are now closed to patients and visitors.
In order to continue to provide physiotherapy services to our clients past, present and future, we are now offering an alternative provision in the form of a Telehealth service, which will allow patients to speak to senior physiotherapists for advice, motivation and recommendations of techniques to help manage their conditions.
If you would like more information about how this service works or are interested in accessing this service please call 0113 229 1300 or email customerservices@physiomed.co.uk and someone will contact you directly.
We are monitoring and following Government advice carefully and will communicate any further changes to our patients as they become necessary.
In the meantime we'd like to share a blog from our partner Health Shield on calming techniques that can help address some of the concerns you may currently be feeling.