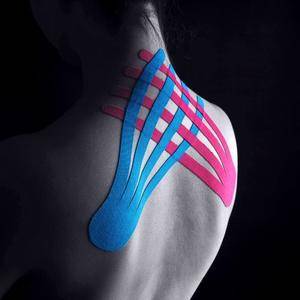 Our Physio Med team regularly use taping techniques to help our patients with pain relief, joint support and increased function in their everyday and sporting life.
After your assessment, a physiotherapist will apply the appropriate taping selection in order to meet your needs. We are experts in strapping shoulders, wrists, hamstrings, knees, ankles and more.


Rigid Taping
Rigid strapping tape is applied for preventative/prophylactic taping of the joints in order for support during high-stress sports activities. This is usually applied to ankles, knees, fingers, shoulder and elbow or used as an extra wound care bandage to overwrap too.


Kinesio Taping
We also use Kinesio Taping mainly for sports performers, allowing them to compete without previously disabling pain and can also treat many conditions using this taping method including;
Muscle imbalance
Postural Problems
Swelling
Ligaments and tendon injuries
Fascia dysfunction (connective tissue)
The tape is applied in a specific pattern in order to correct the problem you have, and each application usually lasts up to 5 days as its extremely tough and waterproof. Kinesiology tape is an improved version of rigid taping that dynamically assists your muscle function.
Prices
Taping/strapping might be discussed in your physio session and is an addition to the physio session price. The cost will depend on how much tape is needed.
Supportive strapping and taping
Price varies